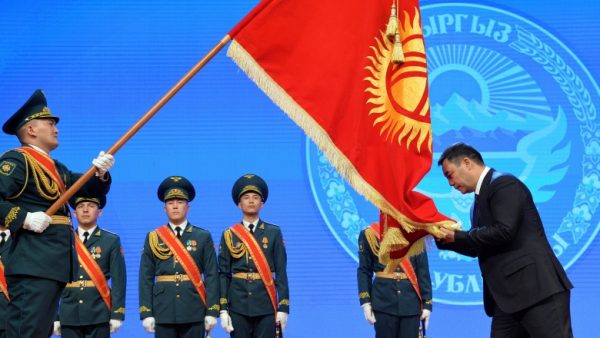 Which politicians do the Kyrgyz people trust? – The diplomat
Mid-September, the International Republican Institute (IRI) conducted a telephone survey about 1,200 Kyrgyz citizens, asking a series of questions about the country's national outlook, including economics and politics, ahead of the legislative elections scheduled for November 28.
There is a lot to explore in the full survey, but here I will focus on one question, which also appears in several previous surveys: "Which politicians or public figures do you trust the most?" "
In the latest poll, respondents were asked to name a politician or public figure they trusted and were given multiple responses. Kyrgyz President Sadyr Japarov was nominated by 35 percent of those polled. The second most common response was "no confidence" with 22%, followed by Chairman of the State Committee for National Security Kamchybek Tashiev (now also a assistant to the cabinet of ministers) with 20 percent.
A handful of other Kyrgyz politicians were also named, but none by more than 10 percent of those polled. Omurbek Babanov, a former presidential candidate, was nominated by 4% of those polled and former President Almazbek Atambayev, now in jail, was nominated by 3% as a trusted politician.
Kyrgyz confidence in any politician may seem fickle, but it depends on the behavior of politicians. A glance at previous polls shows this.
a survey early August 2020 asked the same question two months before the Kyrgyz government collapsed following protests after the parliamentary elections in October 2020. At that time, the main responses were Babanov (16%), Tashiev (12%) and Adakhan Madumarov (11%), followed by Japarov ("Zhaparov S") with 7%. The incumbent President Sooronbay Jeenbekov arrived with more than 5% barley. 27% refused to answer, but only 3% answered "none" or "none of these people".
Going back even further, to a survey end of November / beginning of December 2019: 21 percent answered Babanov and 16 percent named Jeenbekov. Tashiev received 7 percent of responses and Japarov 3 percent, among a host of other politicians with less than 10 percent of responses. Thirty-five percent did not answer the question and 8 percent said "I don't trust anyone".
It seemed clear in August 2020 that there was widespread dissatisfaction with the Jeenbekov administration (illustrated by other investigative questions as well), making his ouster a few months later perhaps less surprising. It doesn't necessarily explain why Japarov was the man to replace him, but Kyrgyz politicians don't become president simply on the basis of positive poll results.
Look no further than Babanov for this lesson. In a Survey February-March 2017 who posed the question of confidence – several months before the October 2017 elections which elevated Jeenbekov to the presidency – it was Babanov who received 35% of the respondents. Jeenbekov was nominated by 3% and incumbent President Atambayev received 31%.
So even though 35% of Kyrgyz citizens surveyed in August trust Japarov, it might not last long. How long? It is unknowable. In Japarov's favor, the latest survey records 69% of those polled saying Kyrgyzstan is "in the right direction", the second highest percentage since a February / March poll when it was 70%. The previous record was 66% in November 2017, but this was followed by a sharp drop, with the percentage of respondents saying Kyrgyzstan "was going in the wrong direction" rapidly rising to 53% in August 2020. Again this decline once illustrated dissatisfaction with the Jeenbekov government.
Above all, economic issues remain at the top of the concerns of Kyrgyz citizens. The cost of living and high prices were the main answer to the question "What is the most important problem facing our country today?" In the most recent survey, followed by unemployment and corruption. In August 2020, the responses were similar: unemployment, COVID-19 and corruption. COVID-19 may have fallen slightly in the ranking of issues, but its impact on the economy is well known, making tackling the pandemic a prerequisite for economic recovery.
The rise and fall of various politicians in investigations like this is, of course, subject to a number of factors, including media coverage. (It's hard to tell you trust a politician whose name you don't know.) No doubt, solving the problems the Kyrgyz people routinely name is the secret to maintaining trust.