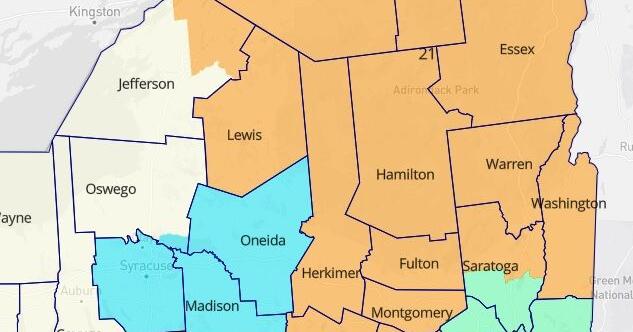 New Map of the 21st Congressional District Released | News
Warren and Washington counties, as well as Moreau and Wilton in Saratoga County, will be kept in a single congressional district under proposed new maps for electoral districts that a court-appointed expert released Monday.
The northern part of Saratoga County, including Saratoga Springs, will now be in the 21st congressional district.
The 21st District would expand south into Fulton, Montgomery, and Schoharie counties, while losing part of Jefferson County.
U.S. Representative Elise Stefanik, R-Schuylerville and Democratic candidates Matt Castelli and Matt Putorti all reaffirmed their intentions to run in the newly drawn 21st District on Monday.
JUDGING THE REJECTION
The maps, which must be finalized by Friday, replace maps passed by the state legislature and signed by Governor Kathy Hochul in February. These maps carved out Glens Falls and Queensbury in Warren County and moved those communities into the 20th Congressional District.
In late March, a state Supreme Court judge rejected the Legislature's plan, saying the maps were unfairly drawn to give the Democratic Party an advantage.
Two appeals courts upheld the decision, the most recent being the state appeals court.
15 COUNTIES
The legislature's redistricting plan would have redrawn Glens Falls, Queensbury, Moreau and Wilton into the 20th congressional district, where Rep. Paul Tonko, D-Amsterdam, is the incumbent.
Those communities will now remain in the 21st District, where Stefanik is the incumbent.
And the 21st District will now include Saratoga Springs.
The proposed new 21st district will include all or parts of 15 counties, including much of the northern region of the country that Stefanik now represents, as well as expanded contiguous territory.
Republicans hold a 13 percentage point registration advantage in the new district, slightly lower than the 14.6 percentage point advantage in the district that the Legislature had adopted.
Former President Donald Trump won the new district by 8.18 percentage points in the 2020 presidential election, according to the court-appointed expert, less than half the margin of 19.4 percentage points in the district which the Legislative Assembly had adopted.
CANDIDATES REACT
"This district — it just got more competitive," Castelli, a former CIA counterterrorism official from the city of Saratoga, said in a phone interview Monday. "My commitment to defeating her (Stefanik) is unwavering."
Castelli said he already knows the neighborhood, having campaigned in much of it for months.
The other Democratic candidate, Matt Putoriti, a Whitehall lawyer, reaffirmed his intention to run in a statement.
"The North Country is my home. This is where I was born and raised…. If the cards released today are finalized, I will continue to race in NY-21 against Elise Stefanik," he said.
Stefanik also reaffirmed his intention to run for office in the 21st District.
"I look forward to running for re-election in NY-21 where I have been honored and honored to win historic support in each election cycle," Stefanik said in a statement. "I will always work my best to get real results for hard-working families in Upstate New York and the North Country."
SENATE CARDS
State Senate Cards
The court-appointed expert also released new state Senate maps on Monday, which would divide Washington County into two separate Senate districts.
The new 45th Senate District, where Dan Stec, R-Queensbury, is incumbent, would include northern Washington County, all of Warren, Essex, Clinton and Franklin counties, and eastern St. Lawrence County.
The new 44th Senate District, where Daphne Jordan, R-Halfmoon, is incumbent, would include all of Saratoga County and a small portion of Schenectady County.
The new 43rd Senate District would include southern Washington County, all of Rensselaer Country and a small portion of Albany County.