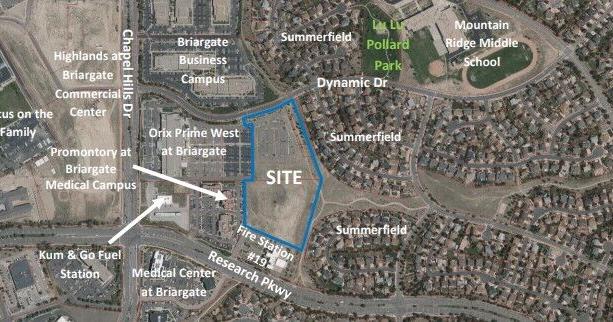 LETTERS: Council should say 'yes' to apartments; politicians don't give us a favor | Opinion
The board should say "yes"
Regarding the apartments offered in a district of Briargate, the council should say "yes". Residents of the adjacent Summerfield subdivision oppose it, but building infrastructure for our growing population is a need; people looking to rent apartments are members of the community with housing rights and a market that provides housing choices.
Opponents cite potential increases in traffic, crowds, noise and crime. Granted, there would be more traffic as residents increase, and we are acutely aware of the need for safety and well-planned emergency evacuation routes, but the Summerfield neighborhood is very different – with several hotspots – neighborhoods like Mountain Shadows (where similar developments were turned down last fall).
Valid security issues can be addressed with solid planning and mitigation by city developers. For concerns about overcrowded schools, choosing the local school allows for great flexibility. And yes, more noise comes with more people, but denying housing because of noise can be mean-spirited and discriminatory, especially if current residents object to some kind of noise or kind people who might live in apartments. .
And why should apartment dwellers be more crime-prone than current owners? Because they can't afford neighborhood house prices? The "Say No to Allaso" group opposes "more strangers in the neighborhood," but strangers in our neighborhoods only remain strangers if we refuse to welcome new neighbors. We cannot maintain our "Olympic City USA" spirit while adopting elitist fear-based practices. Colorado Springs housing is expensive; the city must strive to provide additional sources of housing within our suburban sprawl.
Pierre Gillard
colorado springs
Politicians do not give us a "gift"
In the April 26 issue, an article says that the governor and lawmakers were giving us reimbursement for economic aid. The truth is that it is a refund due to too much tax collected under TABOR. They have to pay it back, and it's not out of kindness to the people of Colorado.
It's a ploy by the Democrats in power to try to trick people into thinking they're watching over us and isn't it funny that the 'immediate' moment is just before the election? Immediate means now and not in five months. They are not doing us a favor but what the law requires.
I'm sick of politicians from both parties who treat us like we don't see what they're doing. They just didn't know how to turn that money into fees so they could keep the money. Shame on them for trying to hide what they have to do instead of giving us a "gift".
Kathleen Huber
colorado springs
Introducing Police Transparency
On Tuesday at the Stargazers Theater, the City of Colorado Springs hosted a public debriefing of a 283-page document regarding the Colorado Springs Police Department's approach to policing the citizens of our great city over the past four years.
When we considered the report as a whole, compared to similar American cities, we as citizens have a large police force.
Police officers and citizens interviewed agree that more needs to be done. The transparency of police training was recognized as a shortcoming.
However, there were no glaring racial or ethnic concerns.
In my opinion, since I took the time to listen to the whole presentation, Transparency Matters did a great job.
My hats off to Mayor John Suthers and City Council, the CSPD leadership, and participating citizen groups.
Willie Breazell
colorado springs
Health and safety at stake
Good letter recently from Val Milly Tenhaeff on the healthiest and safest time for us being mountain standard time. There are too many problems with getting changed twice a year when our health and safety are at stake.
If we are lucky enough to vote, it would be best if we all voted for one hour, Mountain Standard Time all year round with no other choice as a permanent time. Please vote for health and safety in Colorado by voting once all year round, Mountain Standard Time.
Dorothee and Richard Chamberlin
colorado springs
Take control of the situation
When I was an air force pilot on standby in Europe in the early 1970s, we were often told that the Russians would only attack if they were sure they could win.
At that time, NATO was ready to take pre-emptive action if Russian aggression appeared imminent. If Russia succeeds in Ukraine, its objective could become far more important than the annihilation of this democratic country. They are spreading nuclear blackmail. We must attack now, as we were ready to do 50 years ago.
NATO must find a way to disrupt Russian civilian and military communications and provide Russian citizens with documents of the murderous destruction of their leaders in Ukraine.
In Vietnam, light aircraft (we called them "BS bombers") broadcast information, both oral and visual, to the Vietnamese people. With modern equipment and technology, we should be able to do the same in Russia now.
NATO should admit Finland and Sweden now.
As a matter of urgency, NATO should reinforce its conventional and nuclear force on the assumption that it may have to use these weapons soon.
The more the Russians know about our intentions, the less effect our attack will have.
We need to stop being predictable and keep our plans to ourselves, i.e. not in press releases, political speeches, etc. If we don't take control of the situation quickly, we could face the possibility of a nuclear "Pearl Harbor".
James Condit
colorado springs