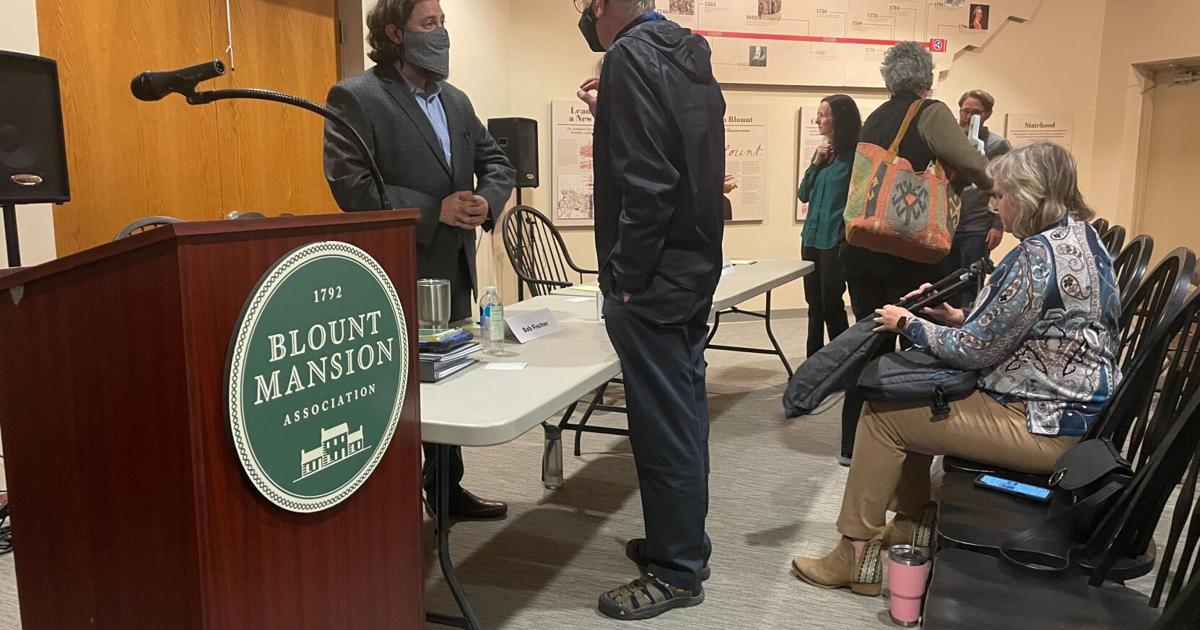 Knox County Democratic Mayoral Candidates Share Vision in Public Forum | Politics
The Knoxville/Knox County League of Women Voters (LWVKKC) along with their many partners, including the Howard H. Baker Jr. Center for Public Policy, sponsored a meet and greet for Knox County mayoral candidates at the Blount Mansion Visitors Center Thursday evening.
This meeting was designed to allow the public and voters to hear these candidates answer questions which included issues for discussion leading up to the May 3 primary election. Afterwards, the audience was allowed to speak and pose unanswered questions to the contestants on their own.
All candidates running in the two primary elections this spring have been invited to attend this event. Although some candidates had scheduling conflicts, the candidates who attended the meeting were Bob Fisher, Tyler Givens and Debbie Helsleyall Democrats running against incumbent Republican Glenn Jacobs.
Each candidate had two minutes to introduce themselves and 90 seconds to answer questions generated by the LWVKKC and its partners.
During his introduction, Tyler Givens, a licensed professional engineer with 15 years of experience in state, local and federal contracts, spoke about his goals and reasoning behind running for mayor.
"I'm running for Mayor of Knox County because I believe that by creating sustainable communities, enabling people to live close to where they work, and strengthening our community agencies to bring more of our own federal taxes back to the Knox County, we can create a prosperous Knox County for all," Givens said.
When asked, each candidate had different top priorities for Knox County that they wanted to focus on. First, Helsley talked about their focus on public education and increasing salaries for teachers who are currently being lost due to higher salaries in other neighboring counties.
Next, Fischer said his biggest concern is keeping Knox County hospitals open when issues like COVID-19 occur and maintaining major medical centers to provide health care.
Finally, Givens talked about how he wanted to stabilize the rental market and improve housing affordability for Knox County citizens so they can live closer to work and have shorter commute times.
Asked about the diversity of populations and how she and her staff would reach out, Debbie Helsley, a retired communications worker and union organizer, originally from South Knoxville and a graduate of the public school system, shared her thoughts on the diversity.
"Diversity shouldn't be an issue, but I guess in Knox County it's definitely an issue. If the boards are out of balance, this needs to be corrected. I think everyone needs to be represented," Helsley said.
When asked what his biggest challenge would be if elected mayor, Bob Fischer, who recently retired from UPS after 44 years of union work, spoke about his issues.
"The mayor's job is to budget and administer. Getting along with the commission for me will be a problem. Watching my mouth and not letting my temper get in the way of something that is obviously against the interest of this community will be a problem. I see the biggest challenge as the relationship between what I do with a fair budget and my relationship with the commission," Fischer said.
After answering all questions, candidates began speaking to members of the public and voting materials were distributed.
Early voting begins on April 13 and will last until April 28. Primary Election Day is May 3, and the LWVKKC will also sponsor and partner with three other candidate events. To learn more about the LWVKKC and its events, visit the league's website website.