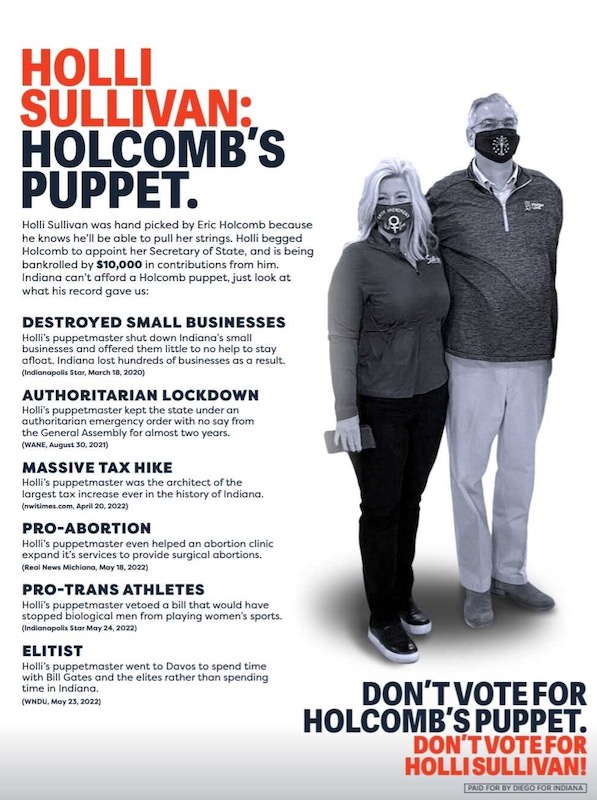 Holcomb and Associates Attacked as Too Moderate as GOP Prepares to Nominate Candidates – Indianapolis Business Journal
Political mail directly attacking Gov. Eric Holcomb and associated GOP candidates as being too moderate has been delivered to delegates ahead of the Indiana Republican Party convention this weekend, escalating an already looming intraparty showdown.
Mail calls Secretary of State Holli Sullivan "Holcomb's puppet" and criticizes her for aligning herself too closely with the governor, who the mailing notes vetoed a bill banning transgender girls from playing K-12 girls' sports and imposing an "authoritarian lockdown" during the pandemic.
Sullivan and Holcomb are pictured on the send-off, standing side-by-side and wearing protective face masks against the pandemic.
A text received by some delegates on Thursday and obtained by IBJ also attacked Sullivan and state treasurer candidates Pete Seat and Elise Nieshalla as lacking the necessary conservative credentials. The text states that the three candidates "are handpicked establishment darlings in the back pockets of Holcomb and Co and will do anything they are told to do. So don't believe the hype; they are not of us.
The missives raised tensions within the party as 1,800 delegates prepare Saturday to formally nominate GOP nominees for secretary of state, state treasurer and state auditor. The convention is expected to test Holcomb's political clout among Hoosier's Republican stalwarts as the governor faces backlash from social conservatives over his response to the pandemic and issues surrounding transgender athletes.
The convention races for secretary of state and treasurer each feature four candidates, some of whom have clear ties to Holcomb.
Sullivan was appointed secretary of state by Holcomb last year to complete the term of Connie Lawson, who stepped down to focus on her health and her family.
The mailing calling Sullivan a "puppet of Holcomb" is labeled as coming from Diego for Indiana, the campaign committee of Sullivan's convention opponent Diego Morales. The phone number listed as the source of the text has an area code of 973 but the sender is not immediately identifiable.
Morales, who once worked as an adviser to the conservative frontrunner and then the governor. Mike Pence, declined to immediately answer questions about his mailings. Reached by phone Friday morning, he said he was busy meeting delegates over breakfast.
Sullivan did not respond directly to the attacks, but issued a statement noting that over the past year, "we have extended our voter identification law to mail-in ballot applications, increased cybersecurity to protect against foreign interference and doubled the number of post-election audits the state conducts each general election.
Earlier this year, Sullivan publicly supported the Legislature's overriding of Holcomb's veto of the transgender athlete bill, saying it was necessary to protect the integrity of women's sport.
In March, Holcomb said he vetoed the measure because it fell short of his goal of providing clear and consistent state policy and was a solution to a problem that does not exist in Indiana. .
On Thursday, Holcomb's office referred questions about the attack mail to party officials.
Joe Elsener, executive director of Eric Holcomb's Indiana campaign and GOP delegate, said the governor's standing with Hoosiers was proven when he won the 2020 election with a "record number of votes …in one of the toughest election cycles of a generation." ."
Elsener said he hopes delegates will vote for a competent candidate for secretary of state who will "ensure the integrity of the election, not against a candidate for a reason that has nothing to do with the duties of the office. of the Secretary of State, and certainly not against a candidate". because of inaccurate statements in this specific mail.
In the race for treasurer, nominee Pete Seat was Holcomb's communications director when he won his first term as governor in 2016.
Seat and Nieshalla did not immediately respond to requests for comment.
As attacks fly in both the secretary of state and treasurer races, a third-party political action committee has entered the fray, sending campaign mail in favor of Sullivan.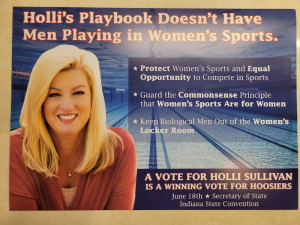 At least two pro-Sullivan mail received by some delegates has been labeled as coming from the Leadership for Indiana PAC, which is registered with the Federal Election Commission.
A website associated with the PAC, leadershipforindiana.com, says it supports principled conservative Republicans. "We believe Hoosiers should have elected leaders who believe in limited government, lower taxes, less regulation and getting things done," the website says.
In the first quarter of this year, the PAC listed a donor: Douglas C. Rose, president of Indianapolis-based Irwin R. Rose & Co. Records, shows he gave $175,000 to the PAC on March 28.
Sullivan said in a written statement that she did not know Rose.