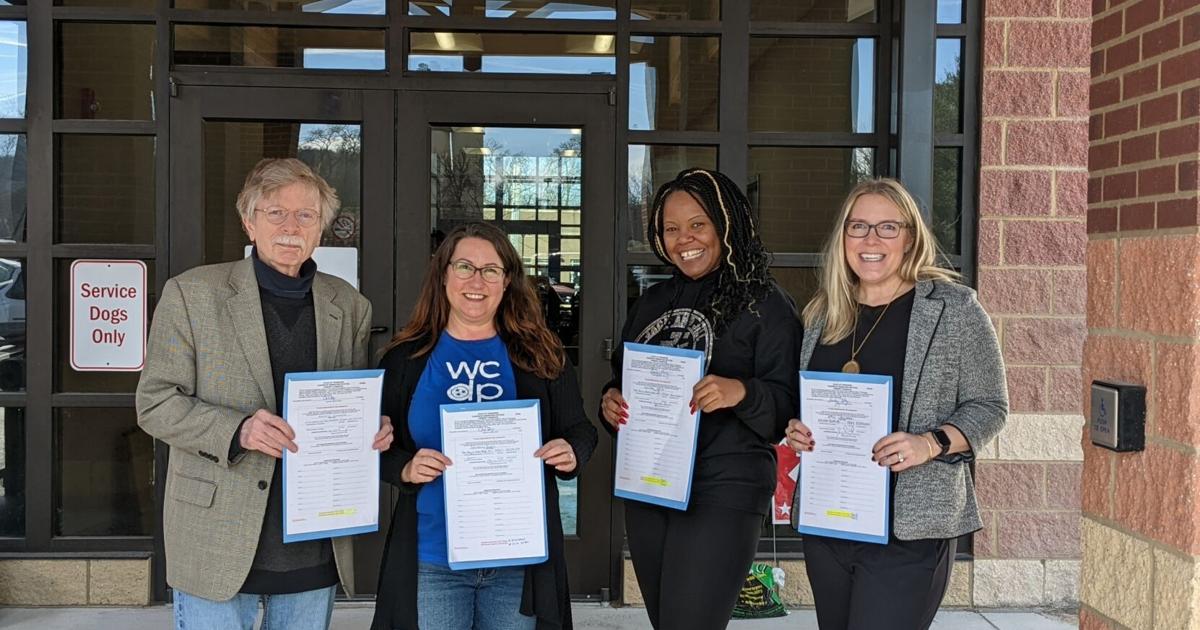 Group of Democrats withdraws petitions for county races | Local News
The first batch of Democratic candidates were among those who launched petitions last week to run in the Williamson County primary on May 3.
Williamson County Commission District 1 candidate Larhonda J. Williams was the first Democrat to start a petition in a county race when she did so Jan. 27. She was followed the next day by District 11 County Commission nominee Johnna D. Carter-Haynes and County Clerk nominee Andrew D. Becker. Courtenay D. Rogers and James K. Townsend, both candidates for District 10 County Commission seat, and District 12 County Commission candidate Erin Crawford joined District 10 School Board candidate, Jennifer Haile, to withdraw the petitions on January 31.
Williamson County Democratic Party Chair Jenn Foley previously told the Herald that party candidates would withdraw petitions as a group.
"The Williamson County Democratic Party represents more than 50,000 Democrats throughout Williamson County who deserve to be heard," she said in a statement released Monday. "It's time to accelerate our progress locally and across the state of Tennessee in recruiting and supporting candidates."
On the Republican side, Mary Smith and H. Evan Bledsoe started petitions to run for District 5 County Commission headquarters, Andrew P. Torres started a petition for District 8 County Commission and Shauna Graham for the district 8 school board.
The Williamson County GOP will host a Leadership Institute campaign boot camp Feb. 10-12.
Independents who withdrew petitions last week included Tom Atema (District 4 County Commission) and Kenneth M. Chilton (District 8 School Board).
Here are the candidates who have filed petitions in each race so far:
Circuit Court Judge – 21st Judicial District, Division I
Joseph "Woody" Woodruff (petition filed December 20, 2021)
Circuit Court Judge – 21st Judicial District, Division II
Deana C. Hood (petition filed January 4)
Shane K. McNeill
Circuit Court Judge – 21st Judicial District, Division III
Michael W. Binkley (petition filed December 21, 2021)
Circuit Court Judge – 21st Judicial District, Division IV
Deanna Bell Johnson (petition filed December 22, 2021)
juvenile judge
Sharon Guffee (petition filed December 29, 2021)
District Attorney General, 21st Judicial District
Kim R. Helper (petition filed January 5)
Public Defender, 21st Judicial District
Greg Burlison (petition filed January 4)
County Mayor
Rogers C. Anderson (petition filed December 20, 2021)
District 1 County Commission
Dwight "Bubba" Jones
Ricky D. Jones (petition filed January 27)
Larhonda J. Williams
District 2 County Commission
Allen (Drell) Floyd (petition filed December 28, 2021)
Judy Lynch Herbert (petition filed January 14)
Elizabeth "Betsy" Hester (petition filed January 31)
Andy Moriarty (petition filed January 26)
District 3 County Commission
Jeff Graves (petition filed January 3)
Jennifer Moore Mason (petition filed January 5)
District 4 County Commission
Tom Atema
Gregg B.Lawrence
Pete Stresser (petition filed January 31)
District 5 County Commission
Robin Baldree (petition filed January 28)
H. Evan Bledsoe
Mary Smith
Tommy Small
Greg Sanford
Rob Verell
District 6 County Commission
Erin Nations
Paul L. Webb (petition filed January 19)
District 7 County Commission
Bert Chalfant (petition filed January 28)
Christopher S. Richards (petition filed January 31)
Tom Tunnicliffe
District 8 County Commission
Jerry W. Rainey
bearded sturgeon
Andrew P. Torres
District 9 County Commission
Chas Morton
matt williams
District 10 County Commission
Meghan Guffee (petition filed January 31)
David Landrum (petition filed December 30, 2021)
Courtenay D.Rogers
James K. Townsend
Ned Williams
District 11 County Commission
Sean R. Aiello (petition filed January 18)
Brian Beathard (petition filed January 21)
Johnna D. Carter-Haynes
District 12 County Commission
Brian Clifford
Erin Crawford
John Dillon
Steve Smith (petition filed January 27)
Jennifer Swaim
General Sessions Judge Part I
Denise André (petition filed on January 5
General Sessions Judge Part II
Tom Taylor (petition filed January 20)
Circuit Court Clerk
Debbie McMillan Barrett (petition filed December 28, 2021)
Youth court clerk
Margaret Gurley Mahew (petition filed January 13)
Curator
Karen Paris (petition filed December 21, 2021)
Sheriff
Dusty Rhoades (petition filed December 28, 2021)
County Clerk
Andrew D. Becker
Glen Casada (petition filed January 28)
Jeff Whidby (petition filed December 22, 2021)
Register of deeds
Sherry Anderson (petition filed December 21, 2021)
District 2 School Board
Dan Cash
District 4 School Board
Josh Brown
District 6 School Board
Jay Galbreath (petition filed January 25)
Kristan A. Bidinger
District 8 School Board
Kenneth M. Chilton
Donna O. Clements
Shauna Graham
District 10 School Board
Jennifer Haile
Guy Powell
District 12 School Board
Nancy Nelson Garrett (petition filed January 31)
Franklin Special School District Board
Robin B. Newman