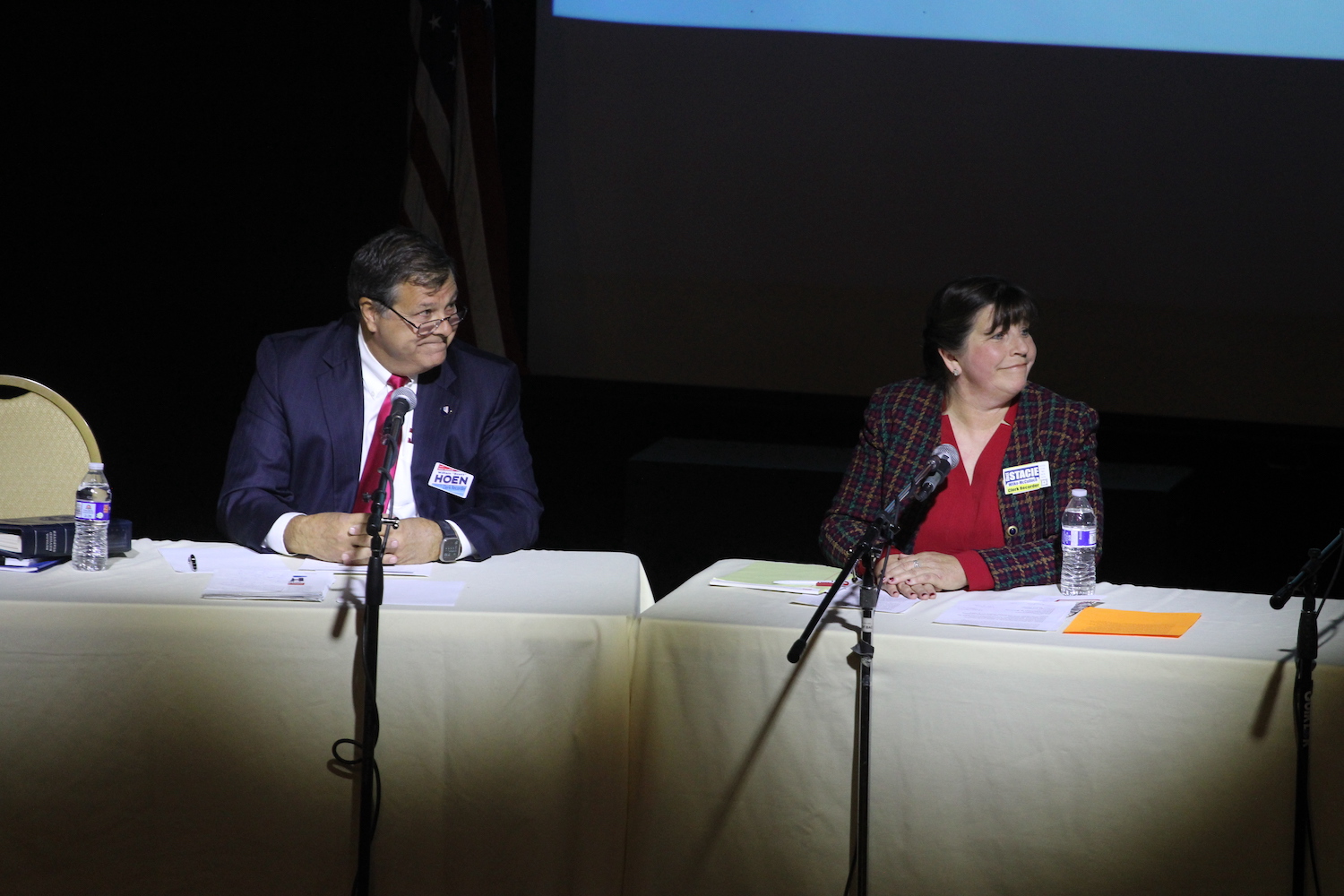 Carson City Clerk-Recorder Candidates Discuss Election Security
Carson City's future clerk-recorder must ensure the integrity of the election, the two candidates for the nonpartisan position agreed at a forum at the Brewery Arts Center Monday night.
"I learned first and foremost that I'm a compliance officer," said Stacie Wilke-McCulloch, a Carson City resident with 14 years of gaming industry experience and currently a school board administrator. of Carson City.
His opponent, William Scott Hoen, has lived in Carson City for five years and has 30 years of experience in the title insurance industry. Hoen was an election worker during the last election.
"They don't trust the electoral system," Hoen said of voters he met during the campaign.
The forum was hosted by the League of Women Voters of Northern Nevada in partnership with Sierra Nevada Forums and AAUW Capital (NV) branch. Nevada Call co-sponsored the forums. Anne Macquarie moderated.
The first question asked each candidate if they accepted the results of the 2020 election. Hoen and Wilke-McCulloch said they accepted the results.
"We need to clean up the voter rolls to restore voter confidence in our system," Hoen said, citing thousands of ballots in Clark County that were allegedly mailed to inactive voters.
Wilke-McCulloch said she believed the 2020 election was fair and safe, but added, "perhaps unlike the people my opponent is hanging out with."
After the forum, Hoen said on the call that he didn't think Wilke-McCulloch's personal comment was appropriate. He said he was Republican Party chairman for Carson City, but resigned to run a nonpartisan campaign.
Other questions asked candidates how best to train poll workers and whether mail-in ballots — instituted during the COVID-19 pandemic — are beneficial to the democratic system.
Hoen said that as clerk-recorder he would reach out to "anyone who wants to participate." He added that poll workers should be trained in voter signature verification.
Wilke-McCulloch said she would work to make sure election officials feel "safe and secure". She pointed out that the Secretary of State has put in place a program to train people.
As for mail-in ballots, Hoen said some people were uneasy about them, especially the signature verification process.
"I want to make sure it's done correctly," he said.
Wilke-McCulloch said the military used mail-in ballots with little or no problem.
"We've been doing it in the military for over 100 years," she said.
Another question raised an unsubstantiated claim that some election officials are trained to challenge voters. Both candidates, however, denied that this was happening.
"I think poll workers get along well and communicate well," Hoen said.
Asked later to elaborate on what it meant to "clean up the voter rolls," Hoen said 1,000 people a month come in and out of Carson City, and the clerk's office needs to keep up. He said local offices must follow strict state rules and regulations.
"They are not suppressing voters, but moving them to an inactive status," he explained.
Wilke-McCulloch said local employees perform this maintenance monthly and the secretary of state's office checks for deaths and duplicates daily. She said if an absentee ballot comes back undeliverable, officials send a postcard to verify the status, then follow up with a call.
One of the last issues related to the elections concerned manual versus electronic counting.
"I think hand counting is setting us back," Wilke-McCulloch said.
Hoen pointed to Nye County where hand counting was adopted "to allay everyone's fears". For Carson City, however, it would be challenging and costly, Hoen said.
Not all questions were related to the elections. Candidates were given the opportunity to explain how they would balance other responsibilities as a clerk-recorder, such as marriage and notary duties and maintaining public records.
"I'm very good at multi-tasking," Wilke-McCulloch said.
Hoen wondered if the Board of Supervisors should separate the clerk-recording duties at some point.
"There is a full plate," he said, adding that he is a "hands-on" manager.
The general election will take place on November 8 and in-person early voting will take place from October 22 to November 4.
For more information on candidates and voting, visit www.vote411.org, https://www.carson.org/government/departments-af/clerk-recorder/elections-department or https://www.nvsos .gov/sos/elections/election information.